Diversity in Medicine Summer Camp Update
The 2021 CNUCOM Diversity in Medicine Camp held from July 12th to the 16th brought together a racially and ethnically diverse cohort of twenty-six undergraduate students from Sacramento State University and other surrounding colleges in Northern California and the Los Angeles area. Our objective was to create a learning environment that fostered students' sense of belonging in the medical profession regardless of racial, ethnic, or gender background and to provide firsthand exposure to medical school. Campers engaged in a week-long, hands on, mini version of CNUCOM's organ systems based first year medical school curriculum with a strong emphasis on campers' cultural contributions to the medical field.
Second year CNUCOM medical students led activities with campers, including dissections, microscopy exercises, a lab experience, patient interaction workshops, and how to perform various physical exams. They encouraged college students' persistence in their pursuit of attending medical school and of becoming community physicians. This mentorship experience reinforced M2 students' learning and personal growth as leaders and introduced campers to careers in healthcare. CNUCOM Diversity in Medicine campers and medical students are featured in the photo below.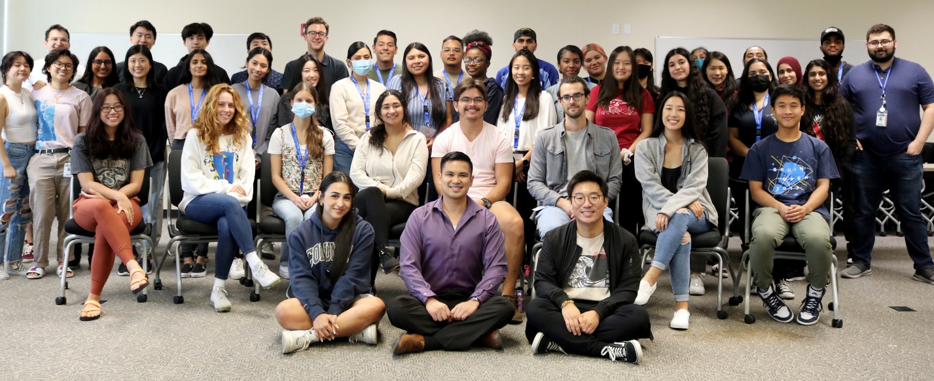 Diversity in Medicine Summer Camp Participants:1st row, seated left to right: Tania Nasrollahi, William Bautista, and Jiayi 'Scott' Ge, M2 students. 2nd row, seated left to right: Mildred Min, M2, Sana Iman Mutalib, Elizabeth Cole, Joselin Esmeralda Salinas Flores, Michael Ysit, M2, Ben Slobodnik, M2, Ga Young 'Amy' Byeon, M2, and Alan Chien, M2. 3rd row, standing left to right: Ashley Yuen, Jessa Alcaide, M2, Shahini Ananth, M2, Alyssa Abram, M2, Kiran Kaur Toor, Wendy Deleon-Orozco, A Young 'Eileen' Byeon, M2, Wendy Fajardo, Ana Yoselin Espinosa Robledo, Alexis Monique Helen Gainer, Theint Aung, Jocelyn Witherspoon, Grace Wang, Zarina Zaki, Kayla Umemoto, M2, Rebeka Kagramanyan, Nimra Rukhsar, Nandita Shankar, M2, and Michael Frank Di Lorenzo, M2. 4th row, standing left to right: Rafael Bravo, M2, Roger Xia, Darren Huai, Micah Chong, M2, Gavin Zanella, M2, Jayvin Herrejon, Donovan Bersamina, Zeeruk Iqbal, M2, Lorena Garcia, Xuanxuan 'Jessica' Miao, Ikjot Thind, M2, Daniel Rodriguez, and Jermel Taylor. Not pictured: Wenjia 'Angie' Wang, Daniel Williams, Jacquelyn Combs, and Yennie Shyu, M2s.
###