Mohamed Ahmed, MBChB, MSc
Assistant Professor of Anatomy
Office: (916) 686-8523
Fax: (916) 686-7310
Mohamed.Ahmed@cnsu.edu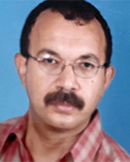 Education
MBChB Cairo University
Diploma of Clinical Pathology Cairo University
BMSc College of Medicine and Dentistry, Western University, London, Ontario, Canada
MSc (Anatomic Pathology) College of Medicine, University of Saskatchewan, SK, Canada
Clinical Anatomy Teaching Fellowship, College of Medicine, University of Saskatchewan, SK, Canada
About
Prior to joining CNU College of Medicine, Dr. Ahmed spent eight years in teaching anatomical sciences to students of medicine, dentistry, physical therapy, kinesiology and science at the University of Saskatchewan, Canada. His teaching experience included, but not limited to, dissection-based gross anatomy, 3D anatomy, embryology and functional physiology. Dr. Ahmed has experience with several methods of teaching including didactic classic methods, problem-based learning, case-based learning as well as team-based learning methods. Dr. Ahmed supports an open-door policy with his students.
Research Interests
Dr. Ahmed is interested in conducting pre-clinical and clinical research on metabolic syndrome, Type-II diabetes and chronic kidney disease (CKD) at CNU College of Medicine. Part of his research at the University of Saskatchewan College of Medicine involved utilizing Synchrotron in measuring bone density in a comparison between diabetic and diabetic-hypertensive Zucker Diabetic Fatty Rat Models (a model mimics the human nephropathy model).
Publications
Ragheb, F. Elbarbry, K. Prasad, A. Mohamed, M. Ahmed and A. Shoker (2008). Attenuation of the Development of Hypercholesterolemic Atherosclerosis by Thymoquinone. Int J Angiol; 17(4): 186-192.
M. Ahmed, A. Shoker (2010). Vitamin D Metabolites: Protective vs. Toxic Properties: Molecular and cellular Perspectives. Review Article. Nephrology Reviews. 2(1): 19- 26.
M. Ahmed, Jing-Zhang Ji and Qing H. Meng (2011). Lipoprotein-Associated Phospholipase A2: How Effective as a Risk Marker and a Therapeutic Target? Inflammation and Allergy-Drug Targets. Aug 1; 10 (4): 236- 46
M. Ahmed, A. B. Jadhav, A. Hassan and Qing H. Meng (2012). Acute phase reactants as novel predictors of cardiovascular disease. ISRN Inflammation Volume 2012, Article ID 953461, 18 pages doi:10.5402/2012/953461.
Ahmed Attia, Siew Hon Ng, M. Ahmed, Kailash Prasad, Ahmed Shoker. Rapamune does not attenuate high-cholesterol induced atherosclerosis in NZW rabbit. Int J Angiol 2014; 23: 111- 120
Awad, K; Boyes, N; Iqbal, R; Ahmed, M; Mohamed, A; Aswath, P; Tomczak, C; Varansi, V. Hepatocyte growth factor administration increases bone soluble phosphate and alters bone chemical structure in diabetic hypertensive rat. Journal of Materials Research 2021; DOI:10.1557/s43578-021-00300-8
Books
M. Ahmed (2009). Mystery of Bronze Diabetes; Pathophysiology, Diagnosis and Mass Spectrometric Approach, VDM Verlag Dr. Muller, Saarbrucken, Germany, Published (143 pages).