Kenneth Lee, MD
Professor of Internal Medicine, Infectious Disease, and Clinical Skills
Kenneth.Lee@cnsu.edu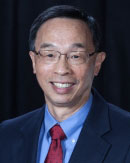 Education
BA, Biological Sciences, Univ. of California, Berkeley
MD, Harvard Medical School
Internal Medicine Residency, Kaiser Medical Center, San Francisco, California
Infectious Disease Fellowship, UC Davis Medical Center, Sacramento, CA
Board certified in Internal Medicine and Infectious Disease
About
Retired from the Permanente Medical Group in 2011 after working 32 years at Kaiser Medical Center, Sacramento/Roseville. Was Chief of Infectious Diseases, Chairman of the hospital Infection Control program, and Co-Director of the HIV clinic.
Involved in the teaching of UC Davis medical students, interns, and residents for internal medicine and infectious diseases. Clinical Professor of Medicine at UCD Medical Center at time of retirement.
Outside interests include tennis, fly fishing, tai chi, hiking, birdwatching, travel, reading, classical music.
Research Interests
Has published a number of articles on clinical infectious diseases on such topics as amebic meningoencephalitis, severe coccidioidomycosis infections, travel medicine, infection control. Advisor to a start-up company called Nosocom Solutions, Inc, that is committed to finding solutions to prevent hospital-acquired infections.