Joseph Silva, MD
Emeritus Dean and Professor of Infectious Diseases
Vice President of Academic and Medical Affairs
Office: (916) 686-7400
Joseph.Silva@cnsu.edu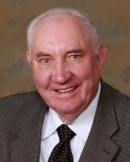 Education
MD Northwestern University Medical School, Chicago, Illinois
Internship, Marbug Service, Johns Hopkins Hospital, Baltimore, Maryland
Assistant Resident, Marbug Service, Johns Hopkins Hospital, Baltimore Maryland
Senior Resident, Osler Service, Johns Hopkins Hospital, Baltimore Maryland
Fellow, Infectious Diseases, University of Michigan Medical Center, Ann Arbor, Michigan
About
Dr. Silva has been training Medical Students and residents for over 50 years at three other US medical schools. He has had a productive career involving clinical and laboratory research, medical practice and public service. Dr. Silva's career has also been involved in leadership positions in several academic societies (California Medical Association, American College of Physicians) and consultants to the US Department of Defense, National Academy of Sciences and the American Association for Advancement of Sciences.
Dr. Silva had previously been Chairman of Internal Medicine (1982-1997) and Dean of Medicine at the University of California School of Medicine. He was a consultant to California Northstate University beginning in 2010 and now is Dean of Medicine since March 2015.
His clinical interests have been in many areas. He has published on antibiotic acquired diarrhea and other diarrhea producing organisms. His laboratory was one of the first to identify Clostridium difficile a major cause of hospital diarrhea. He has extensive clinical experience with pneumonia, meningitis, septicemia, endocarditis, sexually transmitted diseases, osteomyelitis, and decubitus ulcers (i.e. pressure ulcers) over the past 50 years. He is recognized as an early trainee in Infectious Disease before it was formally approved as a subspecialty. Dr. Silva was recognized in 1975 as one of its Fellows.
Dr. Silva has chaired a University of California Task Force for AIDS (1984-1991) in selecting for funding 10-13 million dollars annually. He has served on the California Task Force for containing antibiotic resistant tuberculosis. He served on National U.S. committees to advise the Russians in converting their conversion of bio warfare to more beneficial research. As a member of the Defense Health Board for the U.S. Department of Defense and its Public Health Committee, he participated in the implementation of over a dozen treatment protocols and policy papers on lung disorders following Desert Storm and Revision of Research in Health Care for the entire U.S. Department of Defense. He also has coordinated position papers and articles published by the California Medical Association for 8 years.