Joseph Rogers, MD, FAAP, BCEM
Assistant Professor of Family Medicine
Office Phone: (916) 686-7300
Fax: (916) 686-7310
Joseph.Rogers@cnsu.edu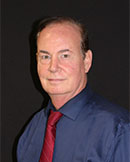 Education
Bachelor of Arts - Saint Mary's College of California
MD - Medical College of Wisconsin, 1987
Residency Pediatrics - USCF Central Valley Medical Education Program, 1987 - 1990
Fellowship Emergency Medicine - Duke University Medical Center, 2001
Community Practice
Following completion of residency training in Pediatrics, Dr. Rogers entered community practice in primary care pediatrics in the rural community of Corcoran, California. There he also served as Medical Director of the Emergency Department and Director, Board of Directors of Corcoran District Hospital.
Subsequently, Dr. Rogers completed a Fellowship in Emergency Medicine at Duke University graduating in 2001. He then returned to California engaged in primary care in various rural communities while working part-time in rural hospital emergency departments.
In 2006, Dr. Rogers founded Sierra Rural Physicians, Inc. A medical group providing physician coverage in Emergency Medicine, Outpatient Primary Care, Skilled Nursing and Hospitalist Medicine from 2006 to 2016 for John C. Fremont Hospital serving the community of Mariposa County. There he served as Skilled Nursing Medical Director, Emergency Department Medical Director, Hospital Medicine Medical Director, and Chief of Staff. Dr. Rogers was elected to the John C. Fremont Hospital Board of Directors in 2016 where he continues to serve.
In 2017, Dr. Rogers joined the faculty at California Northstate University serving as the Family Medicine Clerkship Director and M3 Director.
Publications
Clem K, Burg M, Rogers J. Airway Techniques and Adjuncts. Critical Decisions in Emergency Medicine. American College of Emergency Physicians. December 2000;vol 15;4:7-15.
Clem K, Rogers J. Chapter: Airway Emergencies. In: Pappas, T. ed. Unbound Surgery. Duke University. Accepted for Publication.
Administration of Tranexamic Acid as Treatment for Angiotensin Converting Enzyme Inhibitor-Induced Angioedema: A Case Report. Awsare S., Chirikian D., Rogers J. in Case Reports in Acute Medicine. 2021;4:71-75.