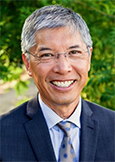 Education
B.S., Nutritional Sciences, U.C. Berkeley
M.D., UCLA School of Medicine
Residency in Family & Community Medicine, U.C. Davis Medical Center
About
Prior to joining CNU College of Medicine faculty, Dr. Chuck was a member of The Permanente Medical Group (TPMG) for 31 years. In addition to maintaining a clinical practice at the Kaiser Davis medical offices, he served as the Chief of Health Promotion and Chief of Physician Health and Wellness for Kaiser Sacramento and Roseville medical centers and their affiliated clinics. He was also the Regional Chairperson of the Physician Health and Wellness Leaders Group. In that capacity, he helped to shape the conversations, culture, and operations that drove the total performance of his 10,000 colleagues serving four million patients.
In 2020, Dr. Chuck launched a wellness consulting service for health care professionals. His clients have included Permanente Medical Groups throughout the United States as well as the American College of Surgeons (ACS), National Committee on Quality Assurance (NCQA), American College of Obstetrics and Gynecology (ACOG), Alliance of Independent Academic Medical Centers, UC Davis, UC San Francisco, Sutter Medical Group, Dignity Health, John Muir Health, Sierra Sacramento Valley Medical Society, and the California Society of Periodontists.
He is the founder and CEO of Serotonin Surge Charities (a 501c3 nonprofit organization that raises funds for safety net medical clinics), a Senior Fellow of the American Leadership Forum, and a UC Davis Foundation trustee emeritus. His work has been recognized with the Sidney Garfield Exceptional Contribution Award from TPMG and the Outstanding Alumnus Award from the UC Davis Alumni Association.