Arpita K Vyas, MD
Assistant Dean for Research
Associate Professor of Pediatrics
Office: (916) 686-7300
Arpita.Vyas@cnsu.edu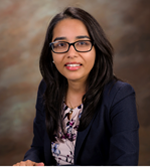 Education
Medical School: University of Sheffield, United Kingdom
Residency: Pediatrics, Case Western University, Cleveland USA
Fellowship: Pediatric Endocrinology, Washington University, St Louis USA
About
Dr. Vyas is a board-certified pediatric endocrinologist. She has a wide range of clinical expertise in endocrine disorders, with special interest in diabetes mellitus and hyperandrogenic disorders. She is affiliated with Sutter Medical Center Sacramento and serves on Sutter Institute of Medical Research (SIMR)'s committee. At CNUCOM apart from leading the Office of Research, she is the co-director for the self-directed scholarly project (SDSSP) research course for M1 and M2's and as a college master for the M2 students. She contributes to medical skills sessions and endocrine related lectures in Phase A curriculum.
Medical Licensure
Missouri State – Full License
Michigan – Full License
California-Full License
Research interest
She is a physician scientist, supported by both federal and non-federal sources, including NIH and institutional grants. She serves as a reviewers and editorial board member for prestigious peer-reviewed journals, including Scientific Reports.
Her research focus includes studies in the following domains:
Maternal Fetal Medicine
Type 1 Diabetes mellitus
Cardiovascular Medicine
Recent Publications
Arpita K Vyas, Yiu Ming Chan, Lavi Oud. Variation in Utilization of Intensive Care for Pediatric Diabetic Ketoacidosis. J of Intensive Care Medicine 2019. PMID: 31409186
Arpita Kalla Vyas*, Almudena Veiga-Lopez, Wen Ye, Bachir Abi Salloum, David H. Abbott, Shengping Yang, Chunyang Liao, Kurunthachalam Kannan, Vasantha Padmanabhan*: Developmental Programming: Sex specific programming of growth upon prenatal bisphenol A exposure. J Appl Toxicol 2019 Jul. PMID 31338854 *Co-Corresponding authors.
Limanskiy V, Vyas A, Chaturvedi LS, Vyas D. Harnessing the potential of gene editing technology using CRISPR in inflammatory bowel disease. World J Gastroenterol. 2019 May 14;25(18):2177-2187. PMID 31143069
Holtz BE, Murray KM, Hershey DD, Richman J, Dunneback JK, Vyas A, Wood MA. The design and development of MyT1DHero: A mobile app for adolescents with type 1 diabetes and their parents. 2019 Apr. PMID: 29228854
Carter, Matthew; Abdi, Abdul; Naz, Fareeha; Thabit, Farouq; Vyas, Arpita. A Mercury toxicity case complicated by hyponatremia and abnormal endocrinological test results. Pediatrics 2017 Aug; 140(2). PMID 28701428.
Holtz BE, Murray KM, Hershey DD, Dunneback JK, Cotten SR, Holmstrom AJ, Vyas A, Kaiser MK, Wood MA. Developing a Patient-Centered mHealth App: A Tool for Adolescents With Type 1 Diabetes and Their Parents. 2017 Apr 19;5(4). PMID 28428167
Koneva LA, Vyas AK (shared 1st co-authorship), McEachin RC, Puttabyatappa M, Wang HS, Sartor MA, Padmanabhan V. Developmental programming: Interaction between prenatal BPA and postnatal overfeeding on cardiac tissue gene expression in female sheep. Environ Mol Mutagen. 2017 Jan;58(1):4-18. PMID:28079927 (Highlighted as top 5 articles for month of Jan 2017)
MohanKumar SM, Rajendran TD, Vyas AK, Hoang V, Asirvatham-Jeyaraj N, Veiga-Lopez A, Olivier NB, Padmanabhan V, MohanKumar PS.Effects of prenatal bisphenol-A exposure and postnatal overfeeding on cardiovascular function in female sheep. J Dev Orig Health Dis. 2017 Nov 4:1-10 PMID: 27809950
Hakim C, Padmanabhan V, Vyas AK (Senior and corresponding author). Gestational Hyperandrogenism in Developmental Programming. Endocrinology. 2016 Dec 14 PMID: 27967205 (Highlighted as top 5 articles for month of February 2017)
Vyas AK (1st and corresponding author), Hoang V, Padmanabhan V, Gilbreath E, Mietelka KA: Developmental programming: Prenatal testosterone alters metabolic signaling and upregulates markers of cardiac stress in the left ventricular tissue of a sheep model of polycystic ovarian syndrome. Sci Rep. 2016 Jun 22;6: 28335.