Albin Leong, MD, ATSF
Professor of Pediatrics and Pediatric Pulmonology
Phone: (916) 686-7300
Fax: (916) 6867310
Albin.Leong@cnsu.edu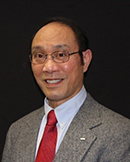 Education
MD, UC San Diego School of Medicine, La Jolla, CA
BS, Biology, Trinity College, Hartford, CT
Training
Pediatrics, Children's Hospital of Los Angeles
Pediatric Pulmonology; Immunology & Allergy, UCSD
Pediatric Pulmonology, Massachusetts General Hospital; Rainbow Babies & Children's Hospital
Board Certifications
Pediatrics, Immunology & Allergy, Pediatric Pulmonology (retired)
About
Prior to coming to CNU College of Medicine, Dr. Leong was Chief of Pediatric Pulmonology at Roseville Kaiser Medical Center and Regional Lead for Pediatric Pulmonology for Northern California Kaiser (NCAL). Other positions have included Co-Director of the NCAL Cystic Fibrosis Center, Pediatric Medical Director of the South Sacramento/Roseville Kaiser Sleep Labs, course faculty member for the Pediatric Flexible Bronchoscopy Course (Cincinnati, OH, Chapel Hill, NC, Davos, CH, Madrid, ES), California Children's Services Consultant, Voluntary Clinical Professor at UC Davis Medical Center, Quality Improvement Coach for the Cystic Fibrosis Foundation Learning & Leadership Collaborative, and others. Additional activities have included co-authoring several evidence-based guidelines, serving as a drug safety monitor, and participating in development of pediatric asthma inpatient core measures for The Joint Commission.
Selected Publications
Leong A, Benscoter D, Brewington J, Torres-Silva C, Wood RE. Pediatric flexible airway endoscopy training during a pandemic and beyond: Bending the curve. Pediatr Pulmonol. 2021; 56: 1386-1388. doi.org/10.1002/ppul.25311
Leong A. The Physiological Effects of Flexible Bronchoscopy: Lessons for the Skilled Bronchoscopist. In: J Piccone III, S Goldfarb S (Eds.) Diagnostic and Interventional Bronchoscopy in Children. Springer Nature, 2021, pp. 137-154.
Zerbo O, Leong A, Barcellos L, Bernal P, Fireman B, Croen LA. Immune Mediated Conditions in Autism Spectrum Disorders. Brain Behav Immun. 2015; 46: 232-236.
Faro A, Wood RE, Schechter MS, Leong AB, Wittkugel E, Abode K, Chmiel JF, Daines C, Davis S, Eber E, Huddleston C, Kilbaugh T, Kurland G, Midulla F, Molter D, Montgomery GS, Retsch-Bogart G, Rutter MJ, Visner G, Walczak SA, Ferkol TW, Michelson PH; American Thoracic Society Ad Hoc Committee on Flexible Airway Endoscopy in Children. Official American Thoracic Society technical standards: flexible airway endoscopy in children. Am J Respir Crit Care Med. 2015 May 1;191(9):1066-80.
Leong AB, Ramsey CD, Celedón JC. The challenge of asthma in minority populations. Clin Rev Allergy Immunol. 2012; 43:156-183.
Leong AB, Green CG, Kurland G, Wood RE. A survey of training in pediatric flexible bronchoscopy. Pediatr Pulmonol. 2014; 49: 605-610.
Schatz M, Zeiger RS, Vollmer WM, Mosen D, Apter AJ, Stilbolt TB, Leong A, Johnson MS, Mendoza G, Cook EF. Validation of a Beta Agonist Long-term Asthma Control Scale Derived From Computerized Pharmacy Data. J Allergy Clin Immunol 2006; 117:995-1000.