Catherine F. Yang, PhD
Vice President of Academic Affairs Associate Dean of Medical Education
Professor of Molecular Pharmacology/Medicinal Chemistry/Biomedical Sciences Department of Basic Sciences
Office: (916) 686-7400
Catherine.Yang@cnsu.edu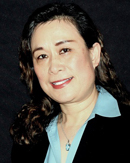 Education
PhD, Biochemistry, Tufts University, Medford, Massachusetts
Postdoctoral, Pharmacology, Harvard Medical School, Boston, Massachusetts
BS, Chemistry, Zhejiang University, Hangzhou, China
About
Dr. Yang is a Professor of Molecular Pharmacology at the Department of Basic Science of College of Medicine of California Northstate University (CNU). Before joining CNU, Dr. Yang was a Biochemistry/Pharmacology Professor in the Department of Chemistry and Biochemistry at Rowan University for 23 years. She also held Professorships at Cooper Medical School of Rowan University in the Departments of Biomedical Sciences and Translational Biomedical Sciences. While at Rowan, Dr. Yang served as the Chairperson for the Department of Chemistry and Biochemistry from 2007 to 2016 and the Director for the Biochemistry Program from 2000 to 2007. She has held research and faculty positions at Harvard Medical School, the American Health Foundation, Boston Biomedical Research Institute, Tokyo University of Medicine and Dentistry, University of Pennsylvania and Zhejiang University of Technology.
Dr. Yang's research has made strong contributions in elucidating mechanisms of tumor progression, and in the development of novel cancer drugs and antibiotics. She has led research groups studying proteolytic regulatory mechanisms in the advanced stages of prostate cancer, lung cancer and leukemia. Her in-depth research on type 2 diabetic metabolic regulation led to a dual function diabetes drug patent. Dr. Yang's immunological research resulted in an allergy vaccine development that is currently under clinical trials at affiliated clinics. The specific approach of triggering induction of immunologic tolerance to external or autologous allergens, and induction of sensitization to infectious or tumor antigens, with targeted tissue delivery of particles sized to facilitate uptake by specific cell populations, will provide unique therapeutic platform for curing advancement stage cancer. Dr. Yang's unique predictive biomarker studies have also spurred a nano-sensor development for an early cancer diagnosis.
Dr. Yang has published more than 60 research papers, several biotechnology books, and is an inventor of several patented inventions. She has also secured numerous grants from the NIH, NSF, Research Corporation and New Jersey Health Foundation as well as funding from many corporations and health foundations. She serves on various review boards of federal, private and health foundation funding agencies.
Research Interests
Dr. Yang research interest centers around the proteolytic regulation in various disease progression stages including aging. Her drug discovery programs specifically target against type 2 diabetes, prostate cancer, leukemia and lung cancer. Her current interest in developing allergy vaccines has been resulted in clinical trials at affiliated clinics.