Personal Counseling Program
The College of Medicine recognizes that students will come into this program with various levels of academic ability and psychological robustness. Some students will most likely experience trying personal circumstances outside the curriculum that may impact their ability to perform at an optimum level of academic performance.

To assist students at times of need, the College of Medicine has one on-site licensed mental health providers. Neither provider teaches in classes or in any way has any evaluative academic role in the student's curriculum.

The Counseling Office is located at 2525 West Taron Ct., Suite 100, Elk Grove, CA 95757, and the phone number for this office is (916) 686-8549. Appointments may be requested through e-mail or over the phone.

Counseling Office Hours:
| | |
| --- | --- |
| Monday: | 11:00 a.m. - 7:00 p.m. |
| Tuesday: | 11:00 a.m. - 7:00 p.m. |
| Wednesday:  | 12:00 p.m. - 3:00 p.m. |
| Friday: | 9:00 a.m. - 4:00 p.m. |
Meet our Counselor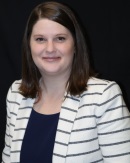 Katelyn Shields, MFT
Katelyn is a Licensed Marriage and Family Therapist. She earned her M.S. in Counseling Psychology from National University and her B.S. in Political Science from CSU Sacramento. Additionally, Katelyn has completed a concentration in International Relations and African American Studies. Katelyn has worked with children, families, and adults from diverse backgrounds and cultures, as well as individuals with Intellectual Disabilities and those on the Autism Spectrum. She has provided psychotherapy at Visions Unlimited, worked at the Gender Health Center, and worked in an acute psychiatric hospital, providing case management and referrals for patients.

Contact Katelyn: Katelyn.Shields@cnsu.edu or (916) 686-8549
---
Counseling FAQs
What are we able to talk to the counselors about? 
We are prepared to talk about any topics including, but not limited to: school stress, anxi-ety, time management, relational stress, depression, suicidal thoughts, trauma, creating positive coping strategies, life transition issues, substance use concerns, etc. If we are not the right place for a student's concern then we can help them find the right person or re-source. Students should feel free to come in with any concerns. We can be a person to vent to, provide ongoing therapy, or just meet one time. Most importantly: no concern is too small or too big to talk about. 

Do I need to make an appointment, or can I just drop in? 
Either one is fine. If we are here and the door is open students can come on in. Making an appointment is a good way to ensure that you can talk to someone at a specific time and for a certain duration. 

How do I make an appointment? 
Email Katelyn.Shields@cnsu.edu, or call 916-686-8549 

Can I make off-campus appointments? 
The personal counseling clinic has now moved off-campus to the Stonelake shopping center. The new address is as follows: 2525 West Taron Ct., Suite 100, Elk Grove, CA 95757


Can I schedule a couples or group session?
We can only provide services to currently enrolled students. If both partners of the couple are students then yes, we can provide couples counseling. Group sessions are something we are working on developing in the future. 

Are the sessions confidential? 
Yes, everything shared in the room with us will be kept confidential and will not be shared with anyone else at the school or outside the school without the student's expressed, written permission. 

Is any information reported to the university or listed on my transcript or in my Dean's Letter? 
No. No one at the school or outside the school will know that you met with a counselor without your expressed, written permission. It is not a part of your student record. 

Can the counselors refer me to or connect me with outside resources? 
Definitely!